I love doing trendy designs so my inspiration comes mostly from current styles, which I find on the runways and magazines. There is a demand for popular styles, but most publishers do not want to do trends because they say they go out of style too soon and they want designs in a book to appeal to people for a long time. But I think if a book has what is in demand, it will sell better. The designs in my first book, Positively Crochet were popular in 2007 when it was published, but the book is still very popular today - 8 years later! I was happy that Interweave allowed me to include several designs in the book that are trends for 2015, such as the Ooh La La Flared Dress with a flare at the hem
I know emerald is one of Mary Jane's favorite colors. This dress is beautiful.
This is made by using Mary Jane's signature technique - Graduated Stitch Method, when you don't make any decreased or increases to shape a garment.
Interesting stitch and side details.
What a great idea!
My strangest source of inspiration may have been for the Ivory Shells Sweater on the front of Positively Crochet. If you are familiar with that book, you know I put a scalloped edging on the edge of the wide, off-the-shoulder top.
I got that idea from some curtains in my living room that had hanging scallops! I love the scallops on the top, but 1 reviewer for the book said that was strange and my scallops belonged in the living room! Ha! At the time I was upset to read that, but some people just want to be negative, no matter what. You can't please everybody.
I think I would say the Haute Couture Peplum Top, because I love feminine, fitted designs and plum is one of my favorite colors. Other favorites are the Parisian Gardens Circular Shawl, because it is light as a feather and I love the color.
Great way to spice up last summer bought dress.
Another favorite of mine is the La Fleur Doily Bag, and I want to thank you, Natalia for giving me that idea! I feel like I need to have your name on that bag too!
A must to make.
My favorite design I've ever created used to be the Cap Sleeve Top in Crochet That Fits, which has been the most popular in the book, and was featured on the TV show Knit and Crochet Now when I was a guest and was interviewed in 2009.
But the Haute Couture Peplum Top may have beat that out in my mind now!
I wear some of my designs, but not all. My daughter likes to wear them. I'd make crochet garments for myself, but just don't have the time. I love the way you wear your creations, Natalia! You look like a model and they all look so good on you!
I have several favorite colors, which are plums, purples, greens (emerald and medium green), teals and deep red (not tomato red). Mainly I prefer medium cool colors. I had to use some warm colors in the book also, because I wanted to appeal to all kinds of people. I have an aversion to bright orange but did the Boutique Bolero in a copper color which is in the orange family.
Well, I have been a singer most of my life. When I was a teenager my sisters and I had a singing group kind of like the "little Worly Girls" in the movie, Oh Brother Where Art Thou? We lived in Mississippi at the time and had our own radio show every week and also were regulars on a live show every Sat night called Country Junction. We were the only group who did not sing country because we sang folk songs, such as songs of Peter, Paul and Mary, but we had 4 part harmony and sang with our guitar. I don't want to bore anyone but in my adult life I sang professionally for many years traveling around to different fairs and festivals in a 2 state area. My style was that of Karen Carpenter, Linda Rondstat, Amy Grant, Patsy, Cline, the Judds and others. Of course I also sang in numerous weddings, United Way Campaigns, Retirement parties, Christmas parties, New Years Eve parties, fund raisers and so many more. My daughter and I were regulars on a TV show in the Dayton area called Star Bound that aired every Saturday. I quit singing publicly when I started my designing career about 10 yrs ago, but I do miss it. I have a CD that will be for sale on my blog soon.
Interweave gave me 9 months, which is standard but I did have to get a little bit of an extension, due to circumstances in my life. It worked out well though because I started the book in 2013 and it wasn't scheduled to be released till this year. It seemed like this time has taken forever to get here! I'm so happy it's finally time to show the world. A book is like your "baby" and it's a very emotional experience working on it and seeing it finally come to life!
Whee would I go if I could go anywhere? My dream would be to go to Europe, especially Paris! It's always been a dream of mine to go there and that's why I came up with the Parisian theme for the book.
Wouldn't we all?
Well, even if we don't have tickets in out pockets, we certainly can get into Parisian mood by crocheting one of your designs from the book!
Other designs in Mary Jane's book (click on headers to get more information from Ravelry):
This one is very cute. I like the muted color.
Simple and lovely.
This bolero looks very comfortable and will add a unique touch to any outfit.
This design will look flattering on any type of a figure.
Love the cascades.
What can be more French than a shawl? A must to make.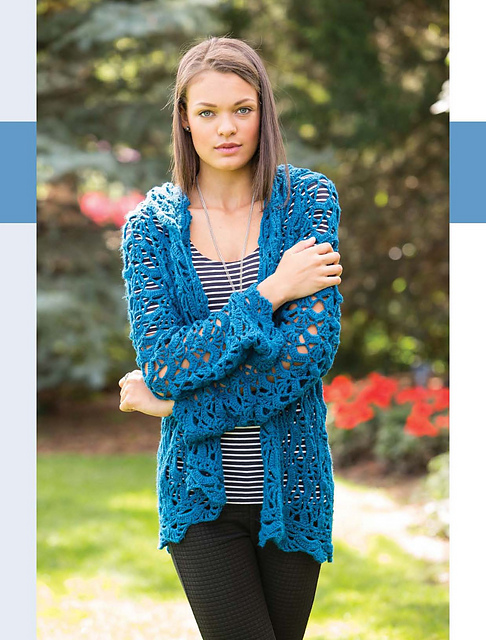 Lovely color and hoods look great with long hair.
What a great idea!
Who does't love motif crochet? Beautiful squares in this one.
Another garment, made by using Graduated Stitch Method.
We all must have at least a dozen of different scarfs!
Roomy, summery and who has enough bags?
This is fun to wear and turn skirt! I bet people will be turning their heads to look at you!
Looks easy to make and chic,
Fast fun project!
Yes, another scarf to your collection, never enough!
This one will make a perfect gift, you will crochet it in no time. If you trying to get somebody into crochet, this project is perfect for beginners.